GN Company ATTENDED IFAT Exhibition in Mumbai
GN Company attended IFAT Mumbai exhibition dated on October 16~18th, and this exhibition is mainly about waste water treatment, there are about 310 companies joining this exhibition, and 32 companies from China.
GN Company is a professional manufacturer of Separation & Conveying Equipment, including Decanter Centrifuge, Disc Separator, Sludge Solid Vacuum Pump, Screw Conveyor, which are widely used for solid/liquid, liquid/liquid, solid/liquid/liquid separation and transferring.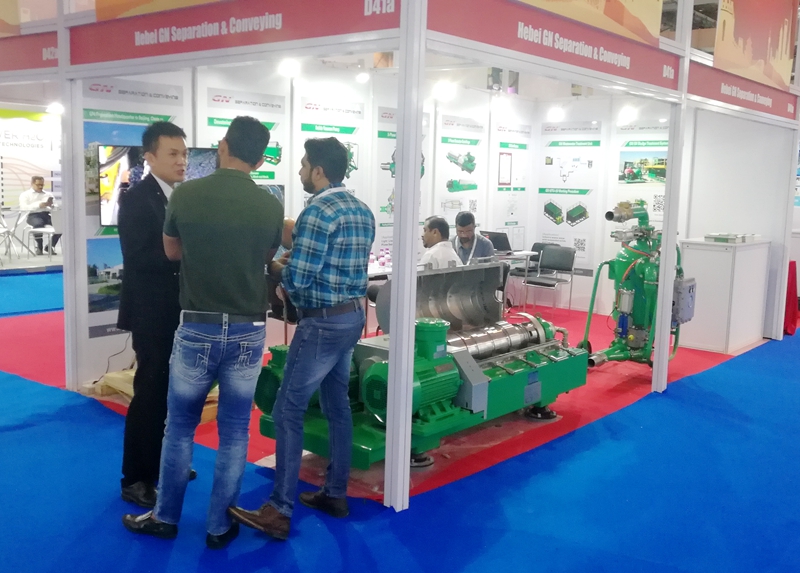 GN Company showed Decanter Centrifuge, Sludge/Solids Vacuum Pump, and Centrifugal Sand Pump during the exhibition, and received great feedback from clients, including about 30 companies are interested in our Decanters, and 10 companies are interested in our Vacuum Pumps.
Decanter Centrifuge is widely used for sludge de-watering, slurry clarifying, solid liquid separation, for WWTP/ETP projects, Wastewater & Sewage Treatment, Mud/Sludge Dewatering, Oil Sludge Treatment and Recovering, etc.
GN Company now is capable to manufacture decanter centrifuge from 9 inch (220mm) ~ 30 inch (760mm), with capacity ranges from 2~3 m3/hour to 120 m3/hour, and bowl material stainless steel 304, 316, 2304 based on clients requirement. And both motors (one for bowl, one for differential) are VFD control, with ATEX, CNEX, IEX explosion proof standard are available for clients' project.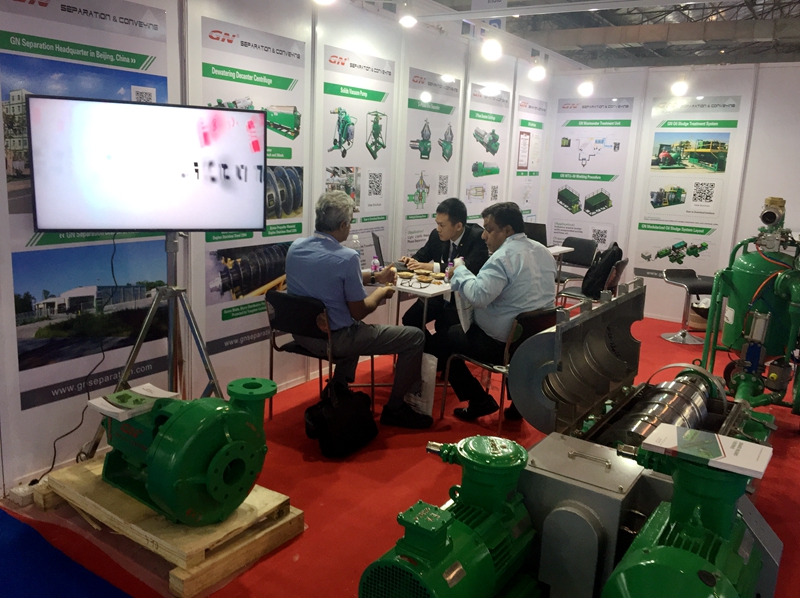 Sludge Solid Vacuum Pump is widely used for Solid, Slurry (with high solid content), and Powder transferring, while common centrifugal pump cannot work for it.
It is 100% pneumatic driven vacuum pump, and GN now has 3 models, 10/20/40m3/hour capability, available for clients to choose.
This pump horizontal suction distance is 50~100m, while discharge distance is 500~1000m.
Welcome to contact GN Sales Managers for pump working videos.
Welcome to visit GN factories, and it's our great pleasure to offer exact solution for your project, as we can offer One Stop Turnkey Solution for Waste Water Treatment, Solid Liquid Separation, Oil Sludge Treatment, etc.