The Fifth Generation Decanter Centrifuge for Overseas Wastewater treatment project
Recently, GN has completed the manufacturing of one set of municipal sewage treatment sludge dewatering equipment customized for an overseas customer. Later, the equipment will be connected and trial tested, and then sent to customers.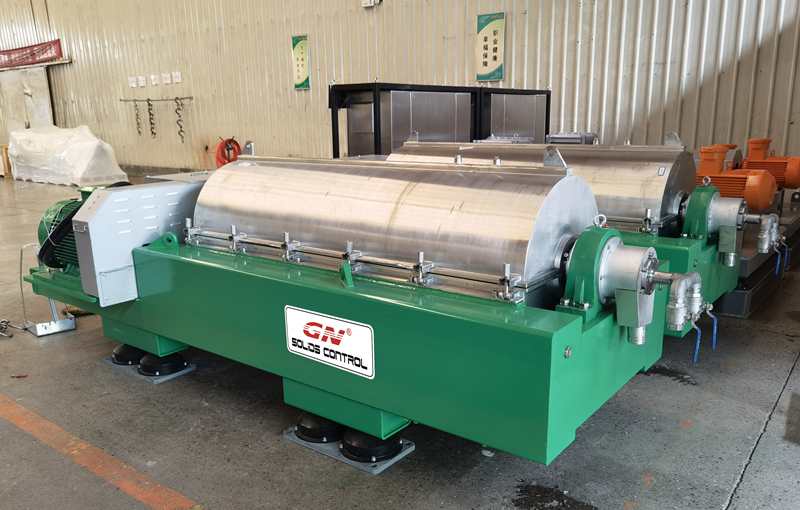 In this set of sludge dewatering equipment, the core equipment is 2 sets of sludge dewatering decanter centrifuges. According to the sludge concentration information 2 ~ 3% provided by the customer and the required treatment capacity of 30 ~ 40 CBM per hour, GN recommended the fifth generation 18 inch decanter centrifuge with a bowl L/D ratio of 4 for the customer.
The following is the basic configuration information of GN 18 inch sludge dewatering centrifuge:
1. Dual motor drive, main motor 45KW, auxiliary motor 15kw.
2. Material: the bowl and screw pusher are made of duplex stainless steel 2205, the collection box is made of stainless steel 304 and the base is made of carbon steel.
3. Wear resistance protection: the sludge distribution port and slag discharge port are protected by tungsten carbide sleeve, the inner wall of the bowl is welded with ribs, the outside of the slag discharge port of the bowl is installed with tungsten carbide scraper to avoid solid slag accumulation, and the screw blade is protected by tungsten carbide plates.
4. Sensor: it includes 2 temperature sensors and 1 vibration sensor. Then sensors detect the operation status of the decanter centrifuge during the operation and feed back to the control cabinet.
5. Centrifuge slag discharge device: It is equipped with slag discharge device that connects the slag discharge outlet of decanter centrifuge collection box and the inlet of screw conveyor. A closed rectangular pipe slag discharge device is equipped with same size of inlet and outlet, which is convenient for sealing slag discharge without volatilization.
6. Control cabinet: the frequency conversion control cabinet adopts stainless steel box and is internally equipped with VFD + PLC + HMI touch screen to improve the convenience and automation of equipment operation.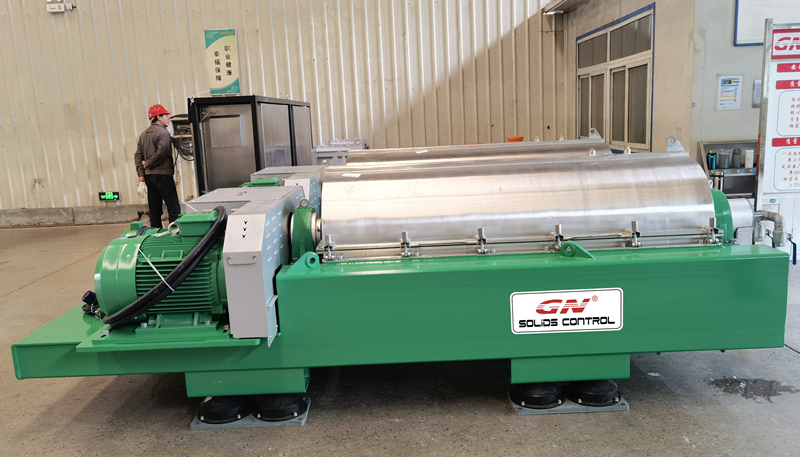 In addition to the sludge dewatering decanter centrifuge, the project also provides customer with polymer dosing unit that will assist to separate the fine particles in the sludge and improve the clarity of the discharged liquid phase.
To learn more about the sludge dewatering centrifuge, please feel free to contact GN separation.