Sludge Screw Press and Polymer Dosing Unit Ready for Shipping to South America
This week, GN finished the assembling and factory test running of one package sludge dewatering equipment including screw press GNDL201 and polymer dosing unit 500L. After the packing procedure, the equipment will be shipped to a sewage treatment servicer in South America.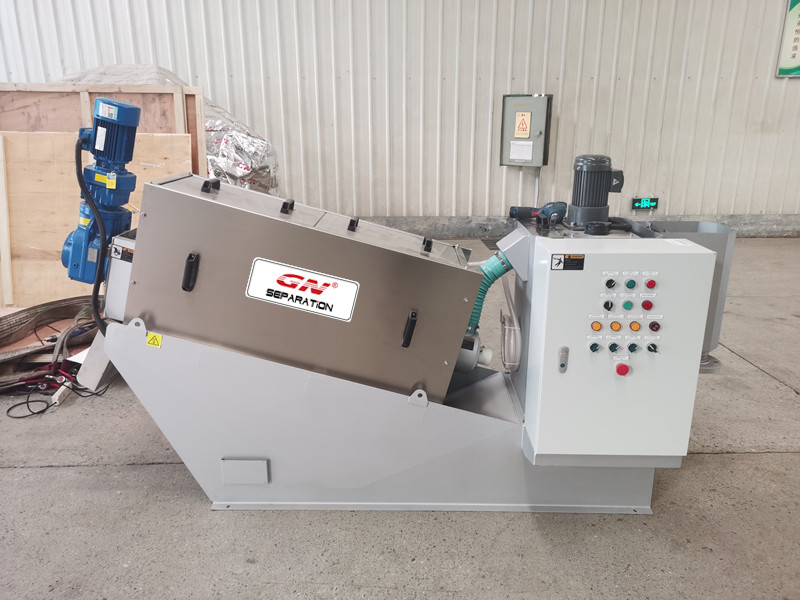 Screw press is widely used in sludge dewatering projects. Because of its compact structure, low energy consumption and low noise, it has been favored by many users. The sludge fed into the screw press needs to have certain fluidity, so that the sludge can enter into the dewatering screw through overflow after flocculation treatment in the conditioning tank. The dewatering screw of the screw press uses staggered floating rings and stationary rings, and the screw blades to form a sludge chamber. With the gradual reduction of the pitch on the screw, the sludge is squeezed during the travel process, the water flows away through the gap between the floating ring and the stationary ring, and the mud cake is discharged through the end outlet of the dewatering screw.
Compared with the dewatering decanter centrifuge, the screw press is more suitable for materials with solid concentration less than 5%, and the discharged mud cake humidity is 75% ~ 85%. For the working conditions with higher solid concentration and dryer mud cake, the dewatering centrifuge is more suitable.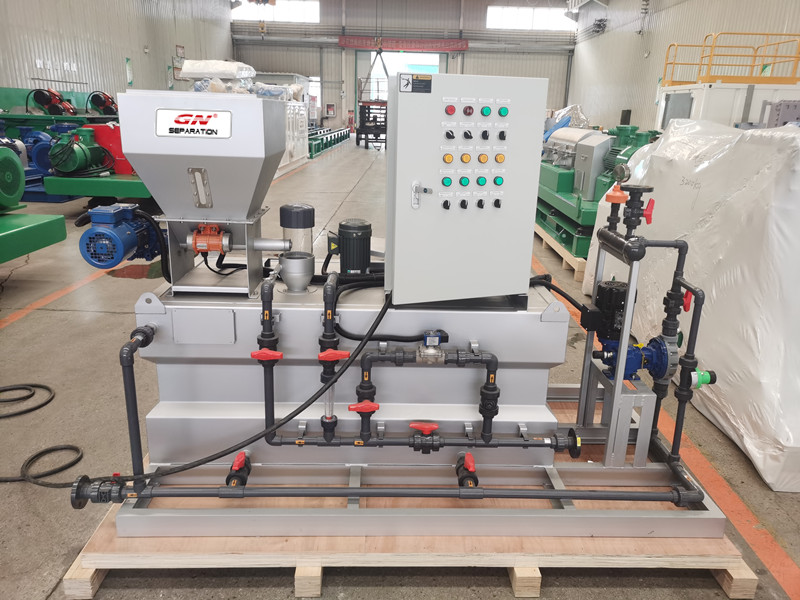 Polymer dosing unit, also known as chemical dosing unit, is usually equipped for the running of the screw press. Polymer dosing unit is used to prepare flocculants. It can automatically feed powder medicament. If the program is preset in the control cabinet, it can realize the quantitative ratio of medicament and water and save the dispensing time of operators. With the assistance of flocculants, the stratification effect of solid phase and liquid phase will be significantly improved, so as to improve the working efficiency of sludge dewatering equipment.
As a professional manufacturer of solid-liquid separation equipment, GN Separation is committed to providing practical solutions for users. If you want to know more about sludge dewatering equipment, please no hesitate to contact us.