Sludge Dewatering Decanter Centrifuge for Europe Waste Disposal Company
In the process of treating some solid-liquid mixture wastes, some processes need to separate solid and liquid, which requires efficient solid-liquid separation equipment. Recently, GN has completed the factory assembly and test run of a set of decanter centrifuge, which will soon be sent to Europe for water treatment projects in which the water is contaminated by hydrocarbons. The purpose is to recover oil from wastewater and waste oil sludge to make productive fuel.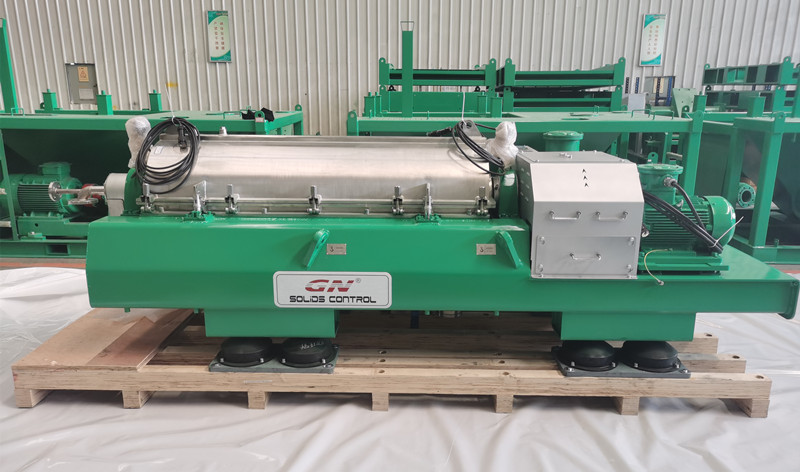 The customer ordered GN 14 inch bowl decanter centrifuge. The inner diameter of the bowl is 360mm and the length of the bowl is 1512mm. It is equipped with a dual motor drive system. The main motor drives the bowl to rotate through the belt pulley, and the auxiliary motor drives the screw propeller inside the bowl to rotate through the two-stage planetary gear reducer. The rotating direction is the same, and the rotating speed is slightly different, so as to form a differential rotating speed, and finally push the mud cake inside the bowl to the slag discharge port. When processing materials with high solid content, the blades of the screw pusher, the material distribution port and the slag discharge port of the bowl will receive great friction. In order to prolong the working life of decanter centrifuge and reduce the maintenance cost in future, GN protects the parts that are easy to receive wear, such as using tungsten carbide plates to protect the screw, and installing carbide sleeves at the material distribution port and slag discharge port.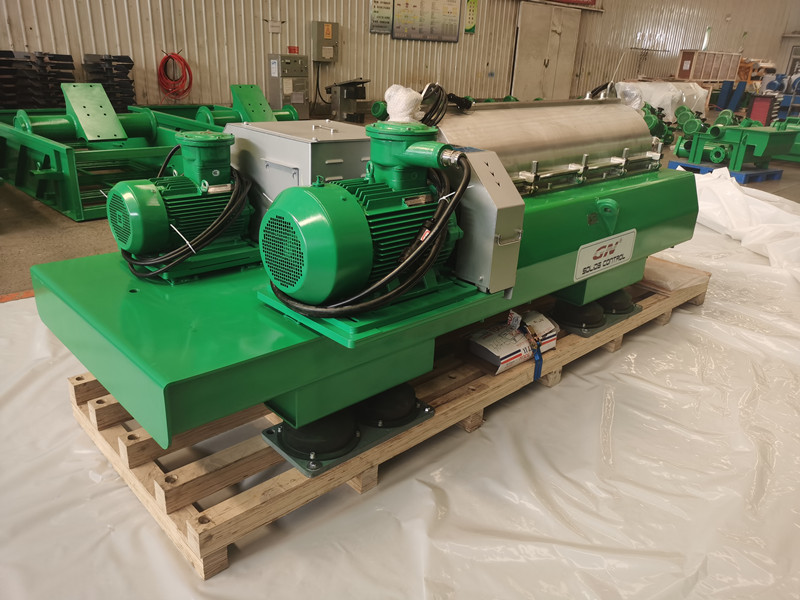 GN equipped VFD control cabinet for each decanter centrifuge. Users can adjust the speed of main motor, auxiliary motor and feed pump motor according to the actual working conditions on site. During the operation of decanter centrifuge, the bearings of rotating parts need to be lubricated. In order to improve the lubrication efficiency, GN equipped the electrical automatically lubrication system for the decanter centrifuge in this order. Users can operate on the control cabinet to inject the grease to the main bearing through the flexible hose. Compared with the filling method of grease gun, the automatically lubrication method is more efficient.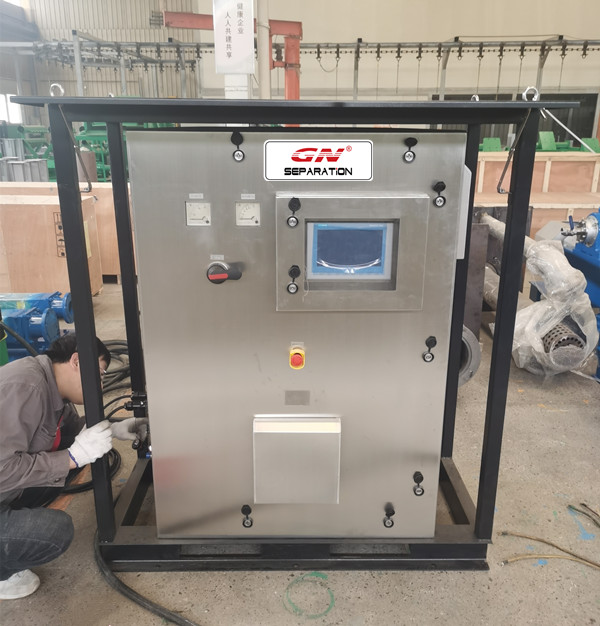 In the oil sludge treatment system, decanter centrifuge, as the main centrifugal separation equipment, is used to separate the solid phase and oil-water mixture, which can remove most of the solid impurities and reduce the burden of subsequent oil-water separation equipment.
For more information about the sludge dewatering decanter centrifuge, feel free to contact GN Separation