One Set Sludge Dewatering Screw Press Package Ready for Shipment
This week, GN finished the fabrication of one set of sludge dewatering equipment and would arrange the shipment shortly. The package includes sludge screw press and chemical dosing unit.
GN Dewatering Screw Press Features
1. GN screw press is widely applied in organic and inorganic sludge, digestion sludge, and biological sludge.
2. GN screw press is fully automatic and continuous running, the PLC and HMI touch screen can be installed in the control for easy operation.
3. GN screw press is of low operation cost as it is low consumption in electricity and flushing water.
4. There is no noise produced during the running of screw press, which meets the requirements of environmental protection.
5. GN screw press is designed compact structure with small footprint, easy for installation on site.
According to different sludge condition and client requirement, the material of discs and screw propeller could be SS304, SS316 and even duplex SS2205.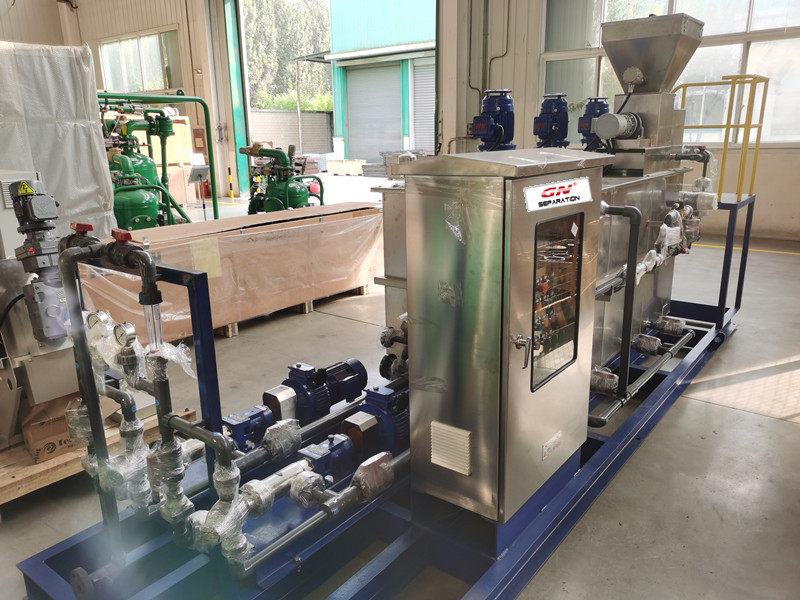 The polymer dosing unit is always equipped to the screw press for preparing the flocculants that will help to remove the fine solids in the sludge. GN automatic Three-slot dry powder PAM preparation unit is divided into 3 compartments for mixing, curing and storage. Operator can set up the chemical solution concentration, then the system will control and powder and water feeding speed as per the pre-set concentration. Once the low liquid level signal is triggered, the doing unit will start automatically to prepare the chemical solution.
As per clients' requirements, the dosing pump could be screw pump and diaphragm pump. Normally GN recommends 2 dosing pump as 1 duty 1 standby in case anyone would breakdown.
The screw press unit is a main sludge dewatering equipment in GN production line. GN is also able to supply the sludge dewatering decanter centrifuge and sludge feeding pump. For more information on GN sludge dewatering equipment, feel free to contact us.