Oil Sludge Treatment Package Equipment for Rental
Being separation solution provider, GN Separation is able to provide not only single solid liquid separation equipment, but also the integrated separation system. The oil sludge treatment package equipment is mainly used for oily sludge 3 phase separation. Currently, the company launched the leasing solution for pilot system.
The oil sludge coming from various sources is mainly composing of oil, water and solids. Therefore, the purpose of applying the oil sludge treatment equipment is to separate the oil, water and solid to as to get the valuable oil, reduce the waste discharge and protect the environment.
The pilot oil sludge treatment system is including premixing module, coarse screening module, solid liquid separation module, water oil separation module, as well as the chemical dosing module. For different purpose of pilot application, different modules in the system can be extracted out for different purpose.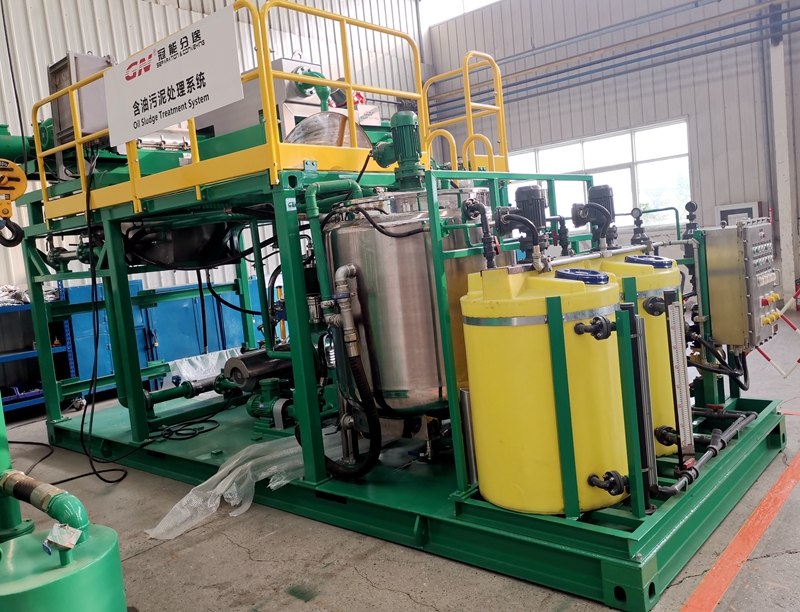 The vibrating screen is the first stage separation module that is used to remove the coarse solids in the sludge, here most of the large size solids would be separated out, which can prevent the subsequent equipment being damaged. After treated by the vibrating screen, the sludge with fine solids will be pumped to the decanter centrifuge for solid liquid separation. Here most of the fine solids will be separated out, and the mixture of oil and water will be discharged out from the decanter centrifuge and flow into the disc stack separator for 3 phase oil water and less content ultra-fine solids separation. The chemical dosing system can be designed as multi-slops for different type chemicals preparation. For the oil sludge treatment, the normally used chemicals are for demulsifying and flocculation.
If you want to learn more about the oil sludge treatment package equipment or have any interesting in leasing contract, please feel free to contact with GN Separation.