GN High Frequency Vibrating Screen Ready for Shipping Ore Pulp Dewatering Site in Central Asia
Recently, GN Separation completed the fabrication of a high frequency vibrating screen model GNFG1440. At present, the equipment is in the factory testing stage, and will soon be sent to customer site in Central Asia for dewatering of iron ore pulp.
The GNFG series high-frequency vibrating screen usually refers to a single-layer high-frequency fine screen, with a screen deck vibration frequency of 25Hz. The machine is widely used in mining, coal preparation, and other industries for wet screening, grading, and dewatering of fine-grained materials.
GNFG1440 is the largest single-layer high-frequency fine screen currently produced by GN Separation, equipped with 2 long vibration motors. The screen deck is divided into 5 sections, and each section is equipped with a flexible screen mesh. In order to ensure the working performance and service life of the equipment, GN designers have made the following configurations for the screening machine:
1. Adopting the principle of self-synchronization of dual vibration motors to form a single vibration source, making the entire screen deck move in a linear motion. The vibration motor adopts internationally renowned brands Martin or OLI.
2. The screen deck is divided into multiple sections, with each section arranged with a polyurethane flexible screen mesh. From the feeding section to the discharge end, the height of each section of the screen deck is reduced once, allowing the material to move quickly on the screen mesh surface, thereby improving processing capacity and screening efficiency.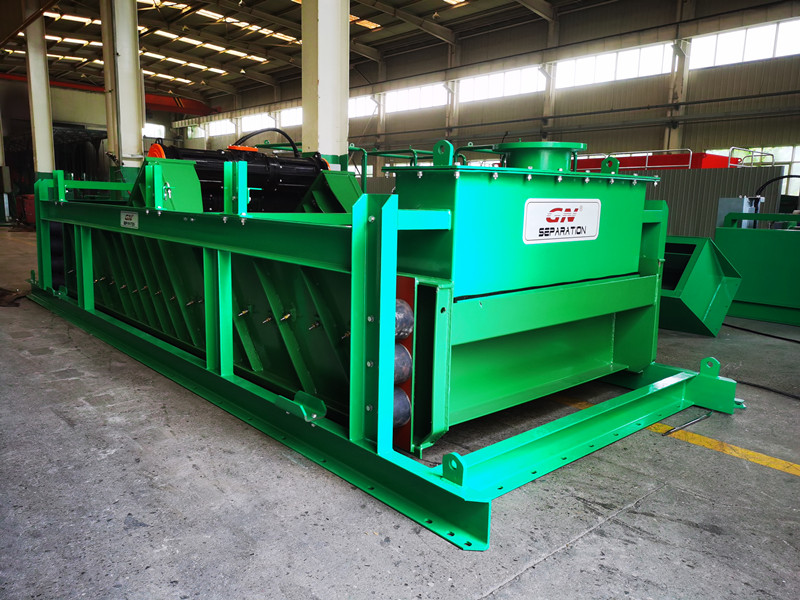 3. The single layer high-frequency fine screen of GN adopts flexible polyurethane screen mesh, which has good elasticity and is not easy to be blocked. The opening rate of the screen mesh is between 28% and 45%, and the average lifespan is around 6 months according to different working conditions. The flexible screen mesh is installed and fixed through pulling-bolt components, making it easy for operators to replace the screen mesh on site.
4. GN has equipped each high-frequency fine vibrating screen with special tools for screen mesh installation.
5. As an important working component, the screen deck comes into direct contact with materials. In order to ensure the working life of the equipment, the wet touching part of the screen deck is sprayed with polyuria resin, which has good physical and anti-corrosion properties.
Single layer high-frequency vibrating screen is one of the many mining vibrating screen products produced by GN Separation. For more information about mining vibrating screens, please feel free to contact GN Separation at any time.