GN DECANTER CENTRIFUGE FOR RUSSIAN CLIENT
3 sets of Decanter Centrifuge are well packed and ready for shipment in GN No.1 work plant, for waste treatment project. GN Decanter Centrifuge is widely used for sludge, mud and suspensions dewatering, thickening, different types of liquid clarifying, 3 phase mixture separating, solids separation, etc.
Main application includes environment protection, oily sludge, sewage, wastewater, mineral slurry, fruit juic, chemical, edible oil, olive oil, etc.
GN Company, as a professional manufacturer of Decanter Centrifuge for 11 years, its production line includes Bowl Diameter 220~760mm, Bowl Length 670~3328mm, with ajustable bowl speed and screw speed, 0~4500RPM. And it's necessary for some projects that the Electrical Control Parts, such as pump, electrical control cabinet, shall be explosion proof, and GN can supply based on CNEX, ATEX, IEX standard.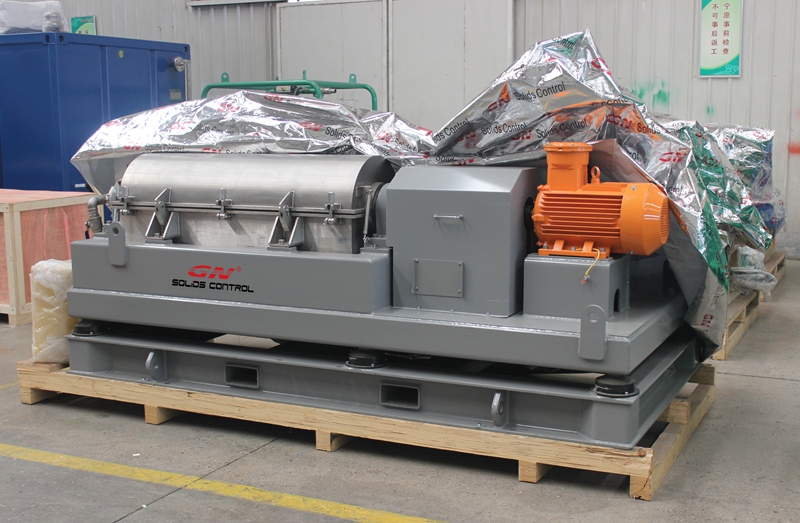 Decanter Centrifuge's working procedure is as below,
Feeding slurry into decanter centrifuge by Centrifuge Feeding Pump or other pump.
Within the decanter, both screw conveyor and Bowl rotate at a high speed, that would generate Centrifugal Force, so solid and liquid would be separated.
Because of the different speed of Bowl and Screw Conveyor (Bowl Rotating Speed is more quickly), Solid would be discharged from Cone end, while Liquid would be discharged from another end.
GN is a professional manufacturer of Decanter Centrifuge for 11 years, with 70% sales for the International Market, including UK, Holland, Australia, USA, Canada, Brazil, UAE, Kuwait, Oman, etc.
GN has two factories under operation, and a third one under manufacturing now, with more than 100,000 square meters totally.
GN has two branch companies in USA & Russia, with equipment & spare parts stocking in warehouse in Houston.
Welcome to contact GN Sales Managers for more Technical Specifications & Working Videos of Decanter Centrifuge.