Decanter Centrifuge for Mining and Construction
GN-MD(Mining Decanter) series decanter centrifuge is designed for mining and construction mud treatment. The high-performance decanter centrifuge is capable to work for a wide variety of mud, tunneling mud, mining and mineral mud, dredging slurry, and fluid recovery, bored pile, Hydrovac Slurry treatment applications. The reliable performance for un-hindered continuous processing is very important for such application. The high performance GN-MD series decanter centrifuge is the ideal choice for dewatering, fluids recovery for tunneling and mining industry.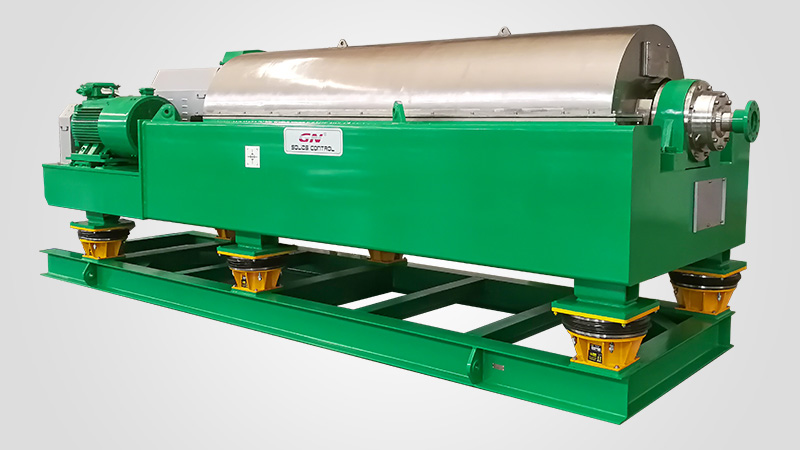 Key features of the Decanter Centrifuge for Mining and Construction
Fully wear protected throughout the separation process inside the decanter by Tungsten carbide
The discharge of solids phased should have high cake dryness, producing a stackable cake
The capacity should huge and the footprint should be small.
Heavy duty design and high reliability for continues operation.
Reduce the power consumption for any mining and mineral separation
GN Mining and Construction Decanter Centrifuge Parameter
Model
GN-MD224E
GN-MD364E
GN-MD454E
GN-MD554E
GN-MD654E
GN-MD764E
Bowl Diameter
220 mm
(9 Inch)
360 mm
(14 Inch)
450 mm
(18 Inch)
550 mm
(22 Inch)
650 mm
(25.6 Inch)
760 mm
(30 Inch)
Bowl Length
924 mm
(36.4 Inch)
1512 mm
(59.5 Inch)
1890 mm
(74.5 Inch)
2310 mm
(91 Inch)
2730 mm
(82 Inch)
3328 mm
(131 Inch)
Max Speed (RPM)
4500
3900
3500
3150
2900
2650
Max G Force
2492 G
3063 G
3084 G
3051 G
3058 G
3000 G
Beach Angle
11/15/20 Degree (Optional for different applications)
Control System
VFD + PLC +HMI
Bowl Material
Stainless Steel SS2304/SS316/SS2205 by centrifugal casting
Screw Protection
Tungsten Carbide Tiles / Hard Facing

The application includes but not limited for following:
Mining industry Tailings treatment
Tunneling boring machine mud treatment, the GN-MD centrifuge is for Removal and dewatering of fines
Vertical geothermal well drilling mud treatment, the GN-MD decanter centrifuge used to recovery of barite from weighted mud
Quarries and lime stone slurries treatment.
Hydro-shield technology for mega tunnel construction slurry treatment.
During the work for cutting and grinding of rock, concrete, and ceramics, the slurry needs to feed to decanter centrifuge for dewatering.
Sand and gravel washing system, the GN-MD decanter centrifuge can be used to dewatering the mud.
Construction of foundations, bored pile projects mud treatment.
Soil remediation and soil cleaning system water or slurry treatment.
River or lagoon dredging projects to treat mud or water.
Hydrovac Slurry treatment.